One of the most cost effective methods of advertising and promotions are through banners. We offer a variety of ways to make your banners and still keep them at a low cost.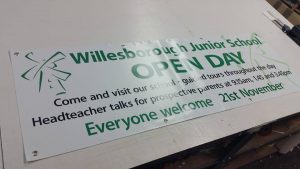 Our Standard material is high quality 550gsm. Please don't ask for 440gsm lighter grade as we don't stock this. We do however offer our 550gsm printed banners at extremely good prices.
Suitable for both inside and outside use, PVC banners are a cheap way to advertise your company and message to passers-by.
At Henwood Signs we constantly review our banner prices and listen to feedback from our customers, this feedback helps us to provide the best and most cost effective way of tailor making your PVC banners to suit your budget.
If you're looking for quality, you've come to the right place. All of our PVC Banners are printed at 1440dpi with slow scan speed and high passes. All of our printers run on full solvent inks to provide the best durability for UV protection. With over 20 years of experience manufacturing signs & banners we're sure you'll be satisfied with the quality and outstanding service we pride ourselves with…
Why buy PVC banners from Henwood Signs?
All our PVC banners are printed at high resolution of 1440dpi for quality print.
Our PVC Banner come with Hem and eyelets on all sides as standard.
Eyelets equally spaced to make your banner look professional and hang straight.
High Quality 550gsm banner material for strength & durability.
Printed with full solvent UV stable waterproof inks for maximum life.
A Flat sealed hem prevents the hem filling with water and drooping.
Mesh option for lighter weight or for windy locations. Mesh allows the wind to blow through your banner rather than against it.
Fire rated to comply with indoor and outdoor health & safety requirements.
FREE basic design service & proof by email
We're always on the end of a phone whatever the question, simply give us a call on 01233 662992
We are only a phone call away for help, support, sales & advice. No answer systems or phone menus, you'll be straight through to an experienced member of team!