Reflective vinyl is one of the many speciality vinyl's available today. It is similar to our standard vinyl in that it can be cut to shape & applied to any glossy surface. It is different in th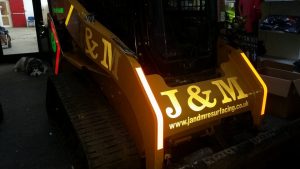 e fact that it has a metallic, reflective base that causes it to reflect back light when light is shone on it. Most people have seen this on road signs or street signs, police cars, ambulance or emergency trucks and fire trucks.
Add reflective vinyl images to your vehicle to bring it to life at dusk or through the night. This is not only advantageous for promotional purposes but
an important safety consideration.
The use of reflective images can reduce the incidence of night time collision by up to 40%.
Our signage creation process:
Meet, email or telephone us to discuss the look/design of the vehicle signage.
Supply us with (if any) ideas, colours, text, taglines, images of other liked signage or designs.
Designs are then either created whilst you wait or emailed.
Changes or improvements are made if needed and costs are finalised.
Graphics are made and installed by us or yourselves.