Window graphics are used to identify your business or for promotions.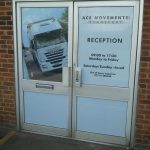 They are an ever-popular solution for high street advertising, branding and sales promotion. The term window graphics generally means covering large areas of glass with single piece full colour printed vinyl graphics. Window decals, on the other hand refers to partial covering of a window with smaller 'shaped graphics' or individual cut-out lettering, perhaps conveying a telephone number or web address.
Contra vision or one-way vision is a product that allows a full colour design to be printed on one side, which is not visible from the other side. This means that when applied to a window it provides a see-thru or tinted view from the opposite side. Benefits include:
1. Window graphics are only visible from the 'public side'.
2. One way vision for security or privacy screening.
3. Reduction of solar heat, glare and UV light.
4. Safe vision is maintained through printed designs on glass doors.
5. Safe identification of glass panels and protection from shattering.
6. Promotion on vehicle rear windows.
Opaque 'etched effect' self-adhesive vinyl is a low cost method of combining privacy, decorative effect and simple messaging and branding to glass windows and doors. It gives the effect of the glass being sand-blasted.
Our vinyl department also stocks translucent coloured vinyl's and window-cling to complete our one-stop shop for all your window graphic solutions.